Steyn finishes 6th and 7th at Sebring Double National Race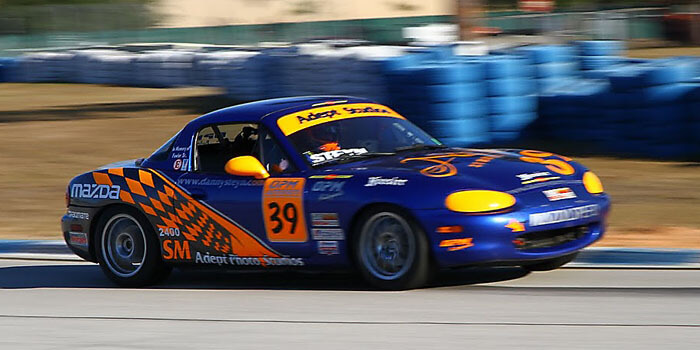 40 Spec Miata's registered for this weekend's race. 62 last weekend. Looks like this Quad National is getting really popular. Draft is all important here at Homestead. Lots of tandem running in Qualifying. Difficult to win without help here, and everyone is really close! Two qualifying sessions held today
Q1 for Saturdays Race (one more qualifying session tomorrow) (top 12 within 1 second!!!!)
1 Todd Buras 1:39.740
2 Andrew Charbonneau 1:39.845
3 Jim Drago 1:40.120
4 Patrick Sandlin 1:40.199
5 Danny Steyn 1:40.201
Q2 for Sundays Race (one more qualifying session Sunday) (top 14 within 1 second!!!!)
1 Alex Bolanos 1:39.621
2 Patrick Sandlin 1:39.788
3 Todd Buras 1:39.789
4 Albert Naon Jr 1:39.815
5 Danny Steyn 1:39.930
Sebring just wasn't a great weekend for Danny Steyn Racing. We battled car issues all weekend long, and while we were able to contend near the front for a few laps in each race, as the engine temps increased the car developed a misfire.
Between races OPM changed all the usual suspects, and of course the problems appeared to be solved, only to reappear in the next race. A very frustrating weekend and a poor way to start the year. This is what makes racing so satisfying and yet so utterly frustrating all at the same time. You have great weekends where you're on fire and nothing can go wrong, and then you have those weekends where nothing goes right.
Steyn ended up with a 6th and 7th place finish for the weekend.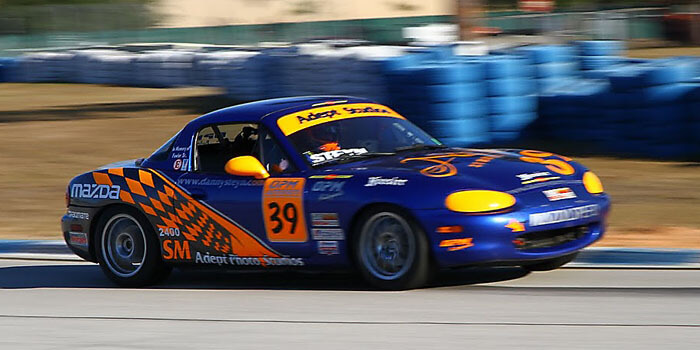 Danny Steyn at speed through Collier Curve at Sebring International Raceway