Steyn scores 3 poles in qualifying, wins at Barber Double National & Pro-IT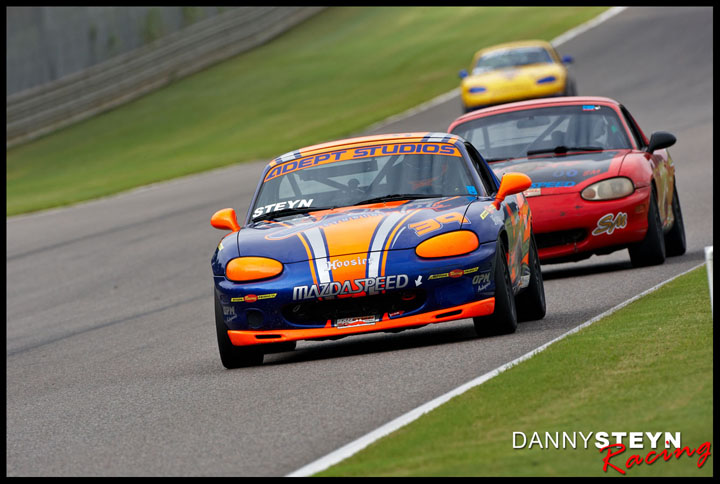 Not only did Danny Steyn put his OPM built, Rossini powered Spec Miata on the pole for both national races at Barber Motorsports Park, but he also qualified on the pole for both STL Nationals and, and qualified in outside pole for the ProIT race. And on top of that he was more than 1.7 seconds under the Spec Miata lap record, running a 1.46.42 in Sundays qualifying, despite being skunked by a slower car on his pole qualifying lap.
In Saturday's Spec Miata National race, Cliff Brown gave Steyn a good run for the first few laps, and then Steyn managed to break away as Brown's tires went off and Steyn pulled away to a 14 second win. Brown finished well clear of Keith Andrews in 3rd and Pat Sandlin in 4th. Jim Drago threw an alternator belt and retired. Lap times were slow and rapidly got slower in the very hot greasy conditions. Steyn did get the fastest race lap with a 1.48.454
In Sunday's Spec Miata Rational Race 2, Steyn got through the first three turns in the lead, but at the hairpin he was helped off the track into the barriers, coming to a rest in the sand trap. After being towed out by the wrecker, Steyn chased as hard as he could to catch the field but crossed the start line almost 30 seconds behind the last car, plus a lap down. Undaunted Steyn put his head down and clicked off the laps, closing more than 5 seconds on the front runners, despite having to clear traffic. Sandlin won the race, Brown was 2nd and Skip Brock 3rd.
Steyn dominated Saturday's STL National in the rain, with a 40 second win over Stephan Tisseront.
Steyn and Brown had an epic battle in the Pro-IT. Steyn ran his spare car as a shake down for the SCCA Runoffs later this month. The first 4 laps were nose to tail with Chuck Baader's BMW and John De Barros's Mazda Protege. Eventually De Barros was able to break clear of Brown and Steyn. Steyn and Brown were side by side on the last lap with Brown squeaking out the victory by 2/10ths of a second.
Congratulations to Cliff Brown for winning the 2012 PRO-IT Championship!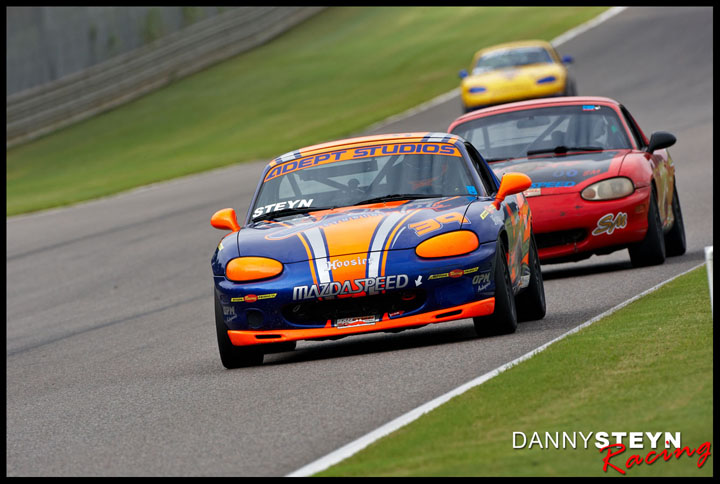 Danny Steyn leads Cliff Brown and Skip Brock in the Spec Miata National at Barber Motorsports Park.
PHOTO CREDIT: Dennis Lathem – PhotoBama