Roebling Road National Race Update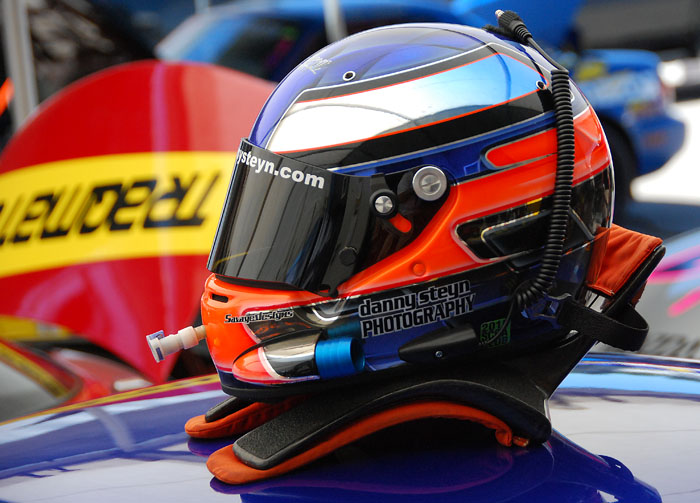 Qualifying came and went today in great conditions, but with a touch of headwind. On a track not known for drafting, a tow, or push, was essential to a good time. Alex Bolanos in his '94 claimed the pole with a 1.22.0. Todd Buras in his 1.6 ran a 1.22.2 for 2nd and I put my '99 in 3rd place with a 1.22.3.. Nice to see all SM variants so well represented.
Todd appears to be the class of the field. He ran several low 1.22's where Alex and I were lucky to get a single flier to get us near the front.
Tomorrow will be a little cooler and times should be faster in the morning.
In the morning STU/STL race Buras just checked out. Roger Burdette had an amazing drive and pushed Steyn down the main straight every lap. Buras Steyn and Burdette ran 1,2,3 with a huge gap to 4th until about 7 laps to go when a Prod car got turned into the pit wall. During the 3 laps under Full Course Yellow, Steyn's cam sensor went bad. Charbonneau, Tucker, and Brown closed he gap to Steyn under caution. With a serious miss fire hurting his power, Steyn pulled way over to let them by.
Charbonneau, Tucker, and Brown flew past Steyn down the straight but only Buras and Charbonneau made it through T1, as Brown, Tucker, and Burdette slid off in in perfect synchronicity in front of Steyn, with no contact at all, but were buried in the sand trap for the duration of the race. The next three laps were really interesting as a Prod car had oiled the track really badly. At tech Andrew Charbonneau was found underweight and moved back several places.
A huge congrats to Buras for the new Roebling STL track record – Todd blitzed it with a 1:21.132! That's fast!
In the afternoon Spec Miata race, just like this mornings STU race, Buras ran away with it from the green flag. That car, with that motor, and Buras at the wheel is going to be pretty difficult to beat all year.
Charbonneau ran a great race coming from 12th to 2nd by race end. Bolanos finished 3rd and Jeff 4th, with Steyn in 5th. The only real racing up front was between Alex, Jeff, Von C and Steyn, and the racing was clean and close with many passes and lots of two wide racing through T1.
Something must have happened further back in the pack, because there was a huge gap to 6th, which saved Steyn who had the misfortune of another cam sensor failure. Cliff Brown was an early contender, but developed an issue and was way off the pace. Tucker was also a contender initially, but fell back. There were several beat up cars on both sides of T5.