Steyn wins and breaks VIR Spec Miata lap record at VIR BFG Super Tour Double Majors event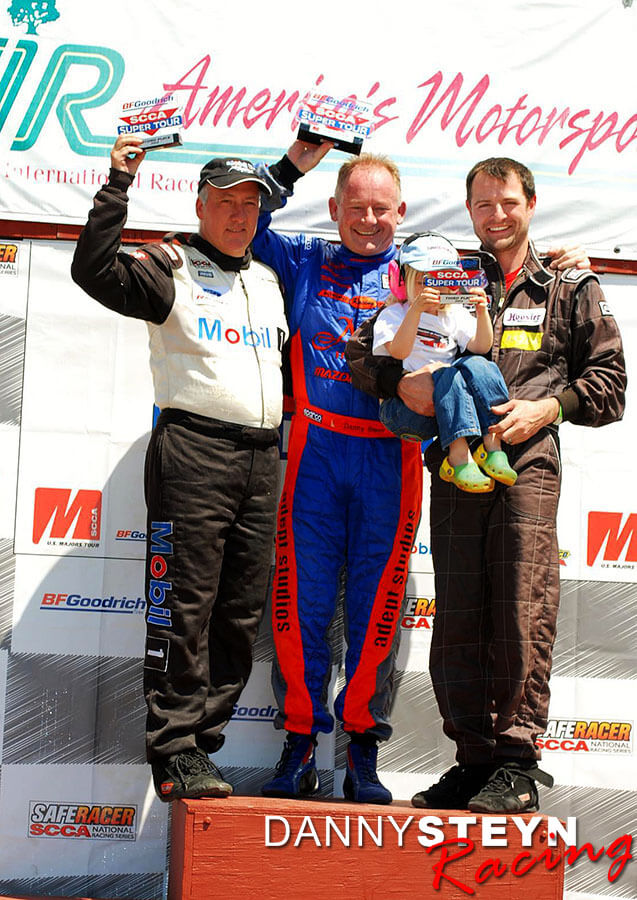 Steyn's great 2013 season seemed to come apart in Race 1 qualifying when he went wide in turn 3 at VIR and got stuck in the mud from the previous day's rain storm. Steyn's qualifying time for Friday would only be good enough for a 16th place on the grid and the incredibly deep field, chances of Steyn getting to the front were absolutely Zero.
However as it turned out, in a an amazing display of patience, Steyn slowly worked his away through the field first into a Top 10 place, then a Top 5 and then to defy all odds, Steyn found himself in the lead. In possibly one of his best drives ever, Danny Steyn converted his 16th place qualifying spot into a 1st place finish in Race 1 over Andrew Charbonneau and Dan Tiley.
Danny Steyn celebrates Race 1 victory on the podium with Andrew Charbonneau and Dan Tiley.
Steyn redeemed his poor qualifying for Race 1 with a pole position for Race 2. In Race 2 Steyn led for the first 4 laps until Tiley passed him and then ran in 2nd for most of the race. Two slight mis-shifts were all that it took for Steyn to get passed by the chasing group, and then Steyn faded to finish in 5th place behind Cliff Brown, Alex Bolanos and Andrew Charbonneau and Dan Tiley. The top twelve drivers had lap times within 1 second of Cliff Brown who set the new track record. What an amazingly deep field Spec Miata is!
2013 VIR Majors Race 1 – Danny Steyn moves up from 16th place to win, and sets new lap record!